Workshop internațional "Umanitarism și dezvoltare. Relațiile României comuniste cu Sudul Global", 30 mai 2023, Institutul de Istorie "Nicolae Iorga" (Bd. Aviatorilor nr. 1, București)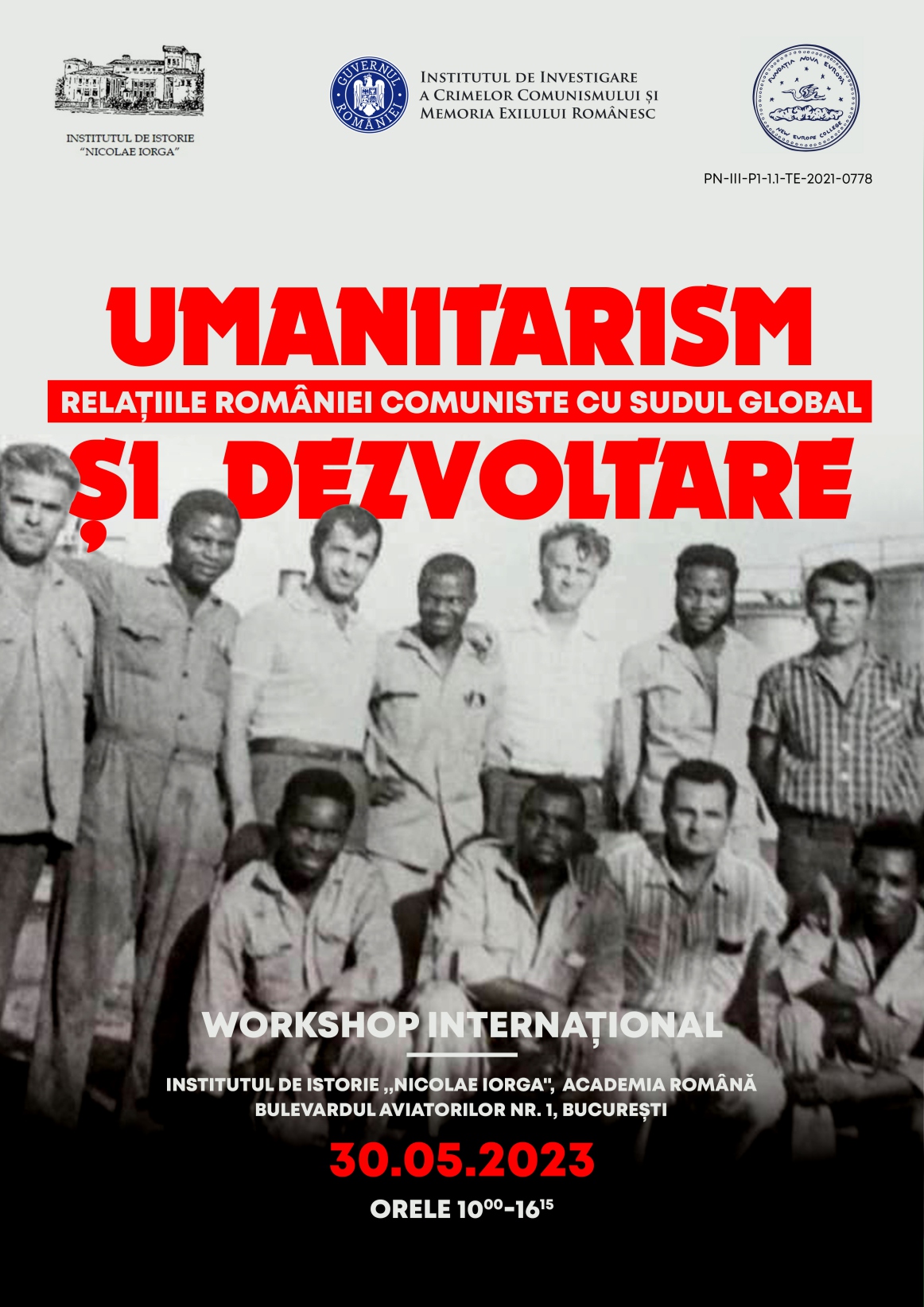 15 mai 2023
Marți, 30 mai 2023, Institutul de Investigare a Crimelor Comunismului și Memoria Exilului Românesc, în parteneriat cu Institutul de Istorie "Nicolae Iorga" al Academiei Române și Colegiul Noua Europă vă invită la workshop-ul internațional "Umanitarism și dezvoltare. Relațiile României comuniste cu Sudul Global". Evenimentul va avea loc la Institutul de Istorie "Nicolae Iorga" din București (Bd. Aviatorilor nr. 1).
Workshop-ul reunește cercetători care vor analiza teme legate de politica externă și rolul României comuniste în istoria ajutorului umanitar din a doua jumătate a secolului XX, ca donator în favoarea diferitelor state din Sudul Global. Dezbaterile se vor concentra asupra diferitelor forme de ajutor umanitar și asistența tehnică acordate de România în a doua jumătate a secolului trecut. Va fi accentuată co-existența solidarității Blocului Estic cu instrumentalizarea umanitarismului pentru atingerea obiectivelor economice și de politică externă. Convergența dintre regimul comunist și țările recent decolonizate a avut un impact fundamental asupra poziției României în cadrul relațiilor Nord-Sud, dar și Est-Vest.
PROGRAM
10-10.15
Cuvânt de deschidere (Mioara ANTON & Luciana JINGA)
10.15-11.45
Umanitarism și expertiză socialistă
Moderator: Corina MAVRODIN
Luciana JINGA (IICCMER/Colegiul Noua Europă)
România și ajutorul umanitar acordat Sudului Global (1970-1989)
Dalia BATHORY (IICCMER/Colegiul Noua Europă)
Exportul unui model de dezvoltare statală: multiplele fațete ale ajutorului umanitar dinspre România spre țările din Sudul Global 
Ștefan BOSOMITU (IICCMER/Colegiul Noua Europă)
Umanitarism sau ajutor de dezvoltare. Programele de burse acordate de România țărilor din Lumea a Treia
Bogdan C. IACOB (Institutul de Istorie "Nicolae Iorga")
România și medicina tropicală ̂ın timpul Războiului Rece
11.50-12.00
Pauză de cafea
12.05-13.35
Export de dezvoltare și Război Rece
Moderator: Beatrice SCUTARU
Corina MAVRODIN (Universitatea din Utrecht)
Faza incipientă a politicii externe 'nealiniate' a României: petro-diplomația și relațiile româno-indiene
Domnica GOROVEI (Facultatea de Științe Politice, Universitatea din București)
"Sub semnul prieteniei, colaborării, solidarității". Ajutoarele acordate de România Coastei de Fildeș și Voltei Superioare/Burkina Faso
Iolanda VASILE (Universitatea din Coimbra)
România și ultimele state independente africane: între ajutor si afirmare
Daniel FILIP (IICCMER/Colegiul Noua Europă)
"Against the Wind": România și chestiunea ajutorului umanitar pentru Sudul Global în cadrul ONU în anii '80
13.40-14.40
Pauza de prânz
14.45-15.50
Paradoxuri interne ale internaționalismului
Moderator: Iolanda VASILE
Mioara ANTON (Institutul de Istorie "Nicolae Iorga")
Calcul politic sau umanitarism? Romania și criza refugiaților chilieni
Beatrice SCUTARU (Trinity College Dublin/Colegiul Noua Europă)
Frontul de acasă: ajutorul oferit de Romania refugiaților din Sudul Global
Cosmin POPA (Institutul de Istorie "Nicolae Iorga")
Industrializarea României ̂ın anii '70 și dilema neocolonialismului socialist
15.55-16.15
Concluzii (Bogdan C. IACOB)
Acest eveniment are loc în cadrul proiectului de cercetare The (Im)possible Alliance: Romania as Initiator and Beneficiary of the Humanitarian Aid (1970-1989), finanțat de UEFISCDI (TE-PN-III-P1-1.1-TE-2021-0778) și găzduit de Colegiul Noua Europă.