"Dizabilitate și cetățenie. Cum au transformat invalizii de război statul român după 1918" – prelegere susținută de bursiera NEC Maria Bucur, joi, 6 aprilie, la Institutul de Istorie "Nicolae Iorga" din București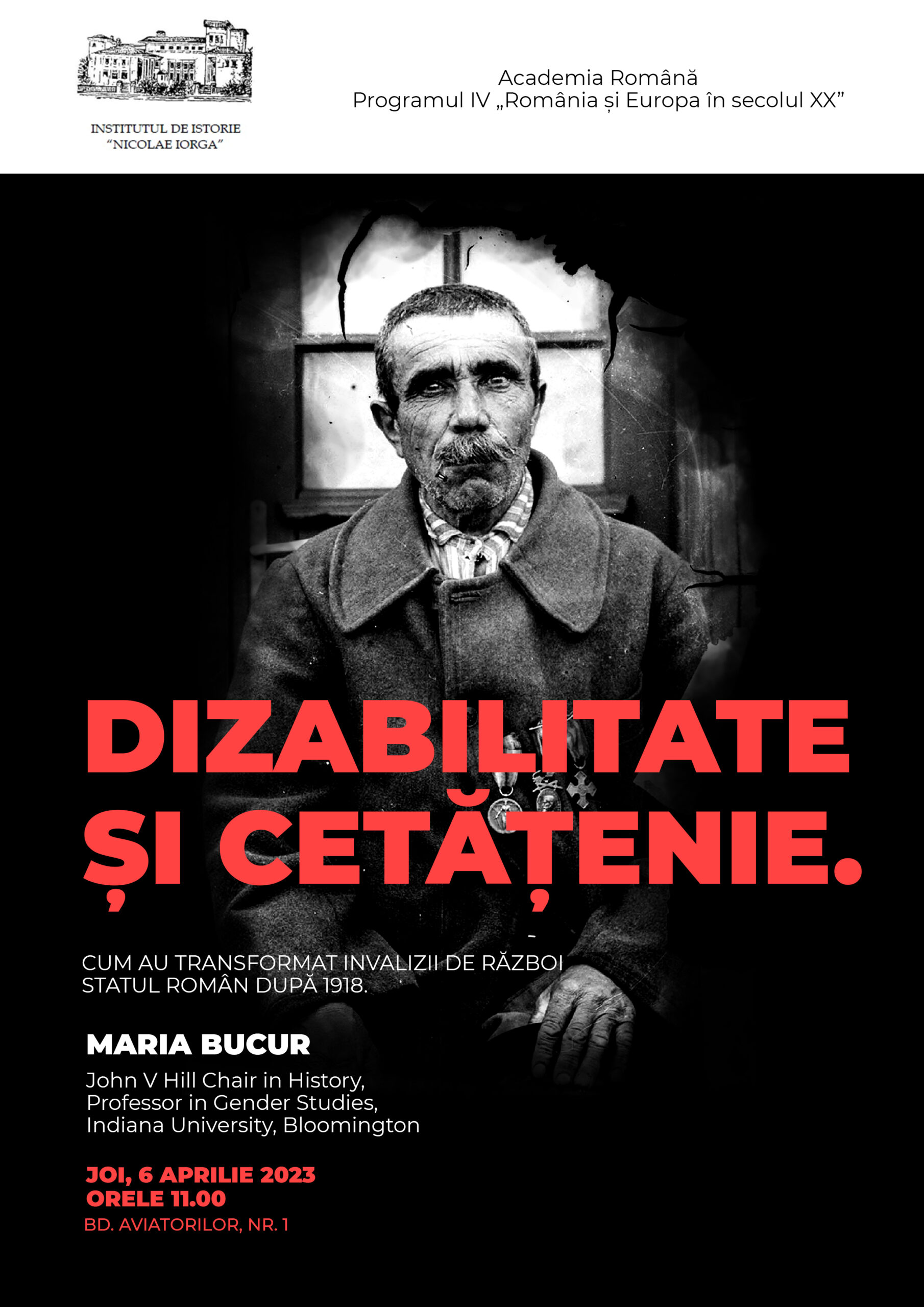 28 martie 2023
Programul IV "România și Europa în secolul XX" din cadrul Institutului de Istorie "Nicolae Iorga" (Academia Română) vă invită, joi, 6 aprilie a.c., orele 11.00, la prelegerea "Dizabilitate și cetățenie. Cum au transformat invalizii de război statul român după 1918", susținută de profesoara Maria Bucur (Universitatea din Indiana). Evenimentul va avea loc la sediul Institutului: Bd. Aviatorilor nr. 1, București.
Rezumatul prelegerii:
Primul război mondial a produs un număr enorm de veterani invalizi în România, ca și în celelalte state combatante din zonă. Întoarcerea lor acasă ca sacrificații țării a declanșat un proces profund de transformare a conceptului de cetățenie și a drepturilor cetățenești. Subiectul acestei conferințe este rolul pe care l-au jucat veteranii în determinarea acestor drepturi și consecințele care au decurs de la crearea unor noi instituții și tipuri de drepturi pentru persoanele cu dizabilități în Romania interbelică.
Maria Bucur este John V Hill Chair in History, profesoară de studii de gen la Universitatea Indiana din Bloomington (SUA). Publicațiile profesoarei Bucur includ: The Nation's Gratitude: World War I and Citizenship Rights in Interwar Romania (Routledge, 2022); Nașterea cetățeniei democratice. Femeile și puterea în România modernă (co-autor cu Mihaela Miroiu, Indiana University Press, 2018; Humanitas 2019); The Century of Women:  How Women Changed the World in the Twentieth Century (Rowman & Littlefield Publishers, 2019); Eroi și victime. România și memoria celor două războaie mondiale (Indiana University Press, 2009; Polirom 2019); Eugenie și modernizare în România interbelicǎ (Pittsburgh University Press, 2002; Polirom, 2005). Maria Bucur este în prezent senior fellow la Colegiul Noua Europă.