Online Lecture: "Ordinary people" and their professions: The contribution of sigillography to the study of Byzantine social history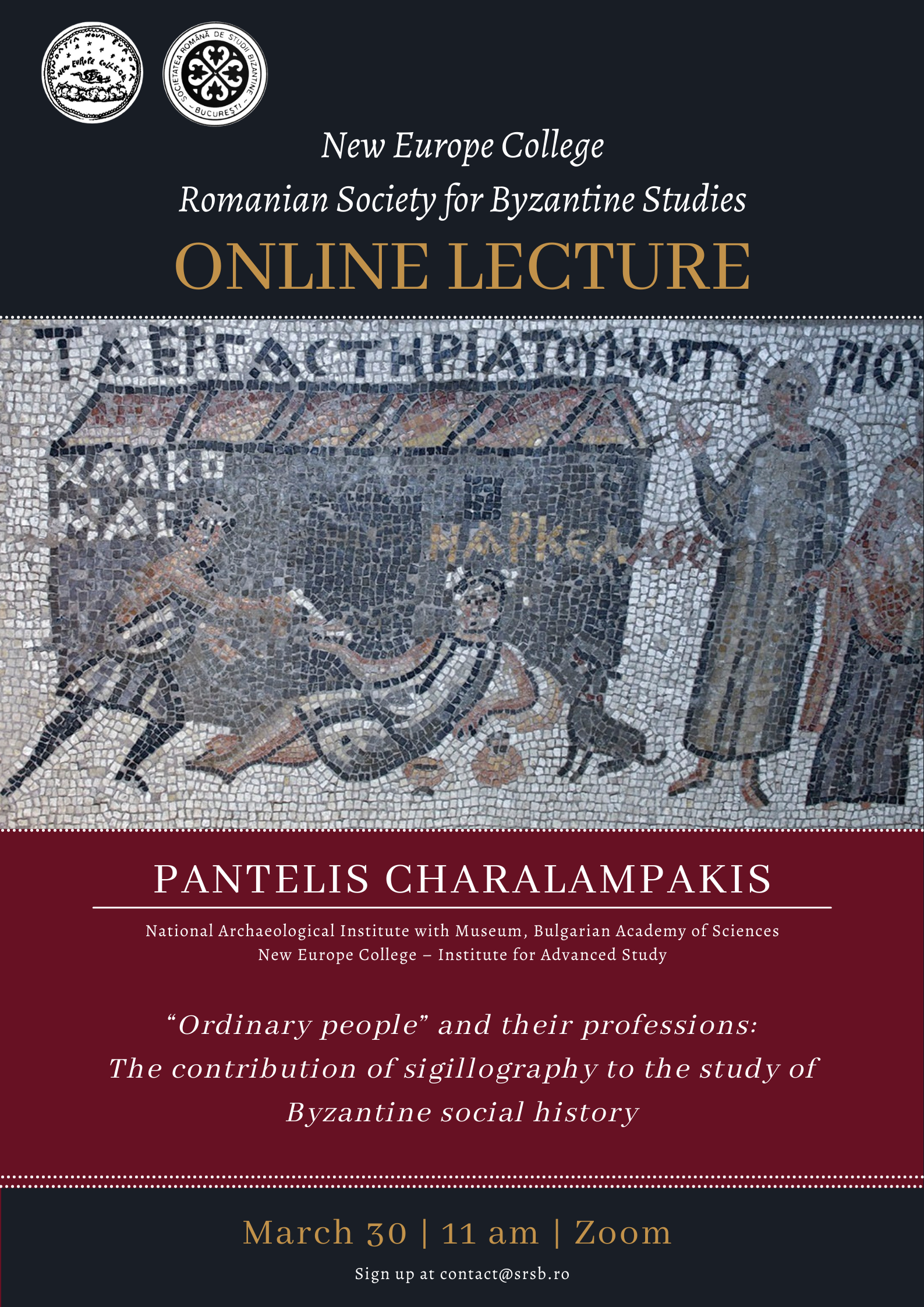 15 March 2021
It is our pleasure to invite you to the lecture "Ordinary people" and their professions: The contribution of sigillography to the study of Byzantine social history given by NEC Fellow Pantelis Charalampakis, PhD, National Archaeological Institute with Museum, Bulgarian Academy of Sciences on 30 March 2021, at 11.00 am (Bucharest time), via Zoom.
Sign up at contact@srsb.ro
https://us02web.zoom.us/j/3989909335?pwd=VXZQZkpJZzBPZjU1Zk1sK3oxQWRyQT09
Meeting ID: 398 990 9335
Passcode: 3HMXD1
Abstract
Sigillography is nowadays an indispensable tool for the study of Byzantine society in general. And yet, from the available material, only the pieces related to the Church, the State and the aristocracy have been approached and sufficiently examined. Byzantine professionals from lower classes who issued seals have been occasionally mentioned in various publications, but we lack a systematic collection and study of this material. The aim of this talk is to present professions that were not directly related to the public or ecclesiastic sector but were most likely practiced by free-lancers, "lesser figures" within the Byzantine Empire, from the 6th to the 12th century, through the – so far neglected – sigillographic evidence. Such professions are the merchants, sellers, butchers, bakers, goldsmiths, silversmiths, medical doctors, notaries etc. The main emphasis will be on fundamental issues such as: who was sealing, why and how often; do the findspots of seals matter; onomastics; origin of the person; linguistics; literacy, content, decoration and style of the seals; religious attitude; gender; and statistics (e.g. boulloterion/seal ratio).
Pantelis Charalampakis is a member of the Department of Numismatics and Epigraphy at the National Archaeological Institute with Museum – Bulgarian Academy of Sciences. His research interests are focused on Byzantine sigillography, prosopography, onomastics, topography, as well as on the medieval Crimea and Crete. He received his PhD in History from the University of Ioannina and he has taught at the International Hellenic University (Thessaloniki). Dr. Charalampakis has been engaged in several research Projects (Centre for Advanced Study – Sofia; Open University of Cyprus; Greek State Scholarships Foundation) and is a member of the TAKTIKON Research Project carried out at the Academy of Athens. Currently, he is a research fellow at the New Europe College – Bucharest.