Online Lecture: "A New Centre: Romanian Germans in Europe after 1989"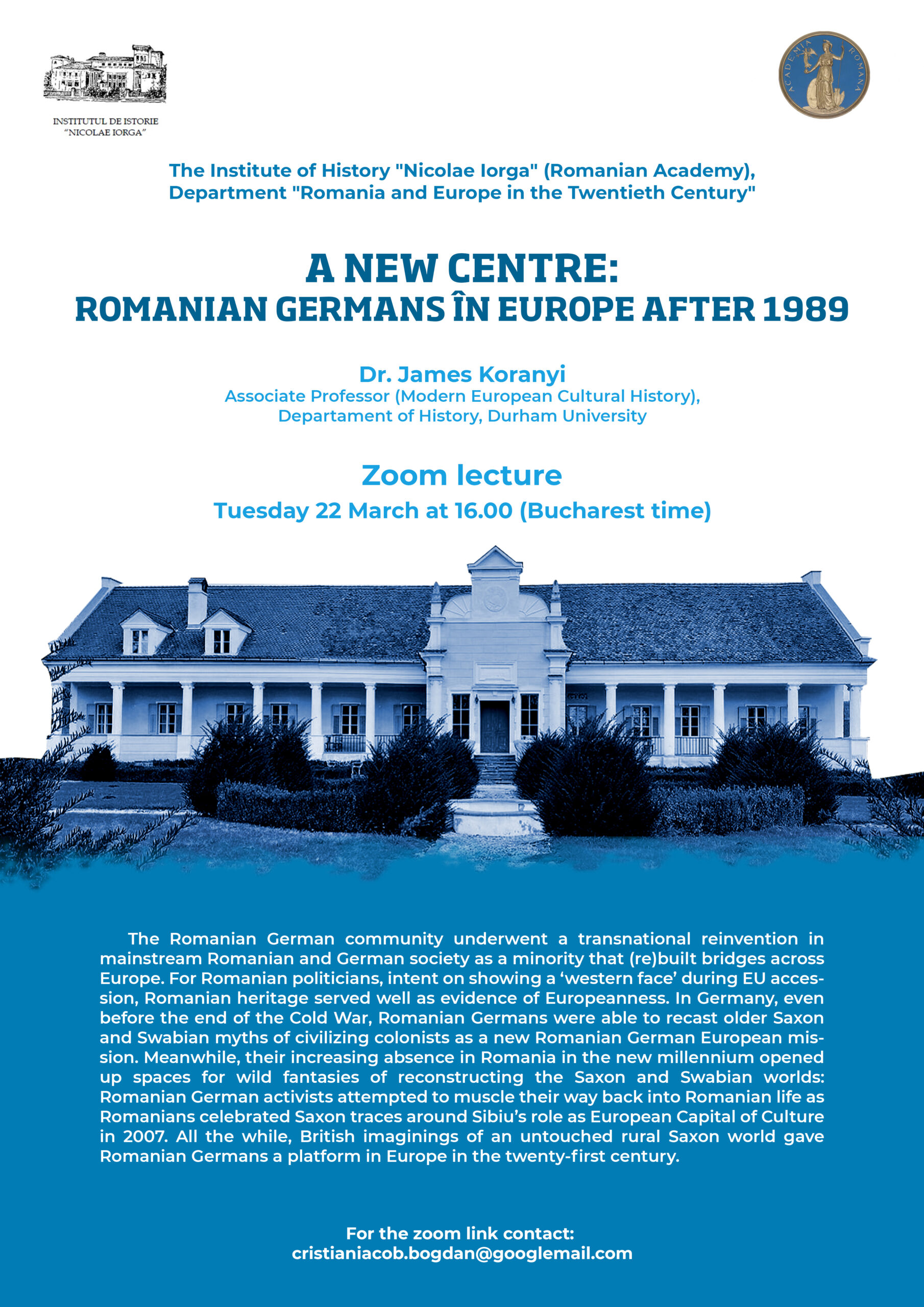 11 March 2022
"Nicolae Iorga" Institute of History of the Romanian Academy invites us to the online lecture A New Centre: Romanian Germans in Europe after 1989 given by Dr. James KORANYI, Associate Professor in Modern European Cultural at Durham University on Tuesday, 22 March 2022, at 16.00 Bucharest time, via Zoom.
For Zoom credentials, please contact Dr. Bogdan Cristian Iacob at cristianiacob.bogdan@googlemail.com
Short abstract:
The Romanian German community underwent a transnational reinvention in mainstream Romanian and German society as a minority that (re)built bridges across Europe. For Romanian politicians, intent on showing a 'western face' during EU accession, Romanian heritage served well as evidence of Europeanness. In Germany, even before the end of the Cold War, Romanian Germans were able to recast older Saxon and Swabian myths of civilising colonists as a new Romanian German European mission. Meanwhile, their increasing absence in Romania in the new millennium opened up spaces for wild fantasies of reconstructing Saxon and Swabian worlds: Romanian German activists attempted to muscle their way back into Romanian life as Romanians celebrated Saxon traces around Sibiu's role as European Capital of Culture in 2007. All the while, British imaginings of an untouched rural Saxon world gave Romanian Germans a platform in Europe in the twenty-first century.
Short bio:
Dr. James KORANYI is Associate Professor in Modern European Cultural at Durham University. His work encompasses German minorities in East-Central Europe, memory cultures, and transnational history. His book, Migrating Memories: Romanian Germans in Modern Europe (Cambridge University Press, 2021), is the first of its kind in English to trace the making of the Romanian German community. He is currently completing a co-authored book – Modern Europe: A Transnational History – with colleagues from St. Andrews and Prague. His new project explores 'New Europeans in the Carpathians, 1860s-1920s' in which he explores what modernity meant seen from a rural, mountainous region.