Online Lecture: "Nature's Building Blocks: Diagrams of the Four Elements in Byzantine Manuscripts" by NEC Alumna Divna Manolova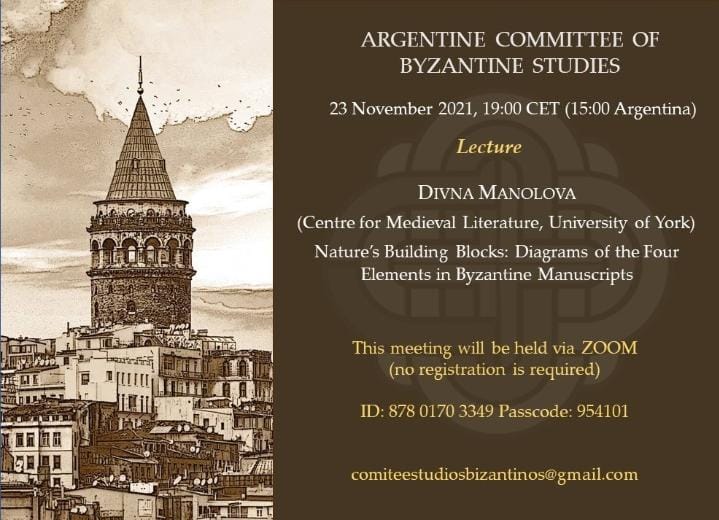 15 November 2021
The Argentine Committee of Byzantine Studies (CAEBiz) cordially invites us to the lecture entitled Nature's Building Blocks: Diagrams of the Four Elements in Byzantine Manuscripts on Tuesday, 23 November 2021, 19:00 CET (15:00 Argentina), given by NEC Alumna Divna Manolova (Centre for Medieval Literature, University of York).
This paper forms part of Divna's ongoing research on the role representation, both abstract and illustrative, and imagination (phantasia) play in the design and use of Byzantine diagrammatic and technological devices for the purposes of understanding, mapping, preserving and transmitting knowledge concerning the cosmos and the natural world. Thus, in this paper she will discuss various ways, through which Byzantine scholars employed diagrams in order to visualize what was otherwise impossible to observe, namely the basic building blocks of nature, such as the four elements of earth, water, air and fire. The paper is part of a work in progress and does not aim to offer any definitive answers, but rather to engage the audience in a process of collaborative thinking concerning nature, imagination, and scientific representation in Byzantium.
Divna Manolova is a Postdoctoral fellow at the Centre for Medieval Literature (University of York and University of Southern Denmark, https://cml.sdu.dk/) where she is working on theories of space and dimensionality in Byzantine cosmological and astronomical texts and diagrams. She obtained her PhD in Medieval Studies at Central European University (2014) and was a Marie Skłodowska-Curie/POLONEZ 1 fellow at the University of Silesia in Katowice (2016–18).
The lecture will take place online:
https://us02web.zoom.us/j/87801703349?pwd=QTA0YlpWL0R3Y01OYWxVOGJ1TFFQdz09
Meeting ID: 878 0170 3349
Passcode: 954101
If you have any questions, please contact us: comiteestudiosbizantinos@gmail.com
For more information about the CAEBiz, please visit our website: http://caebiz.tilda.ws