Conferința "Tineret și Pedagogie Socialistă. Turismul Școlar în România (1965-1989)", luni, 15 mai 2023, la Institutul de Istorie "Nicolae Iorga" din București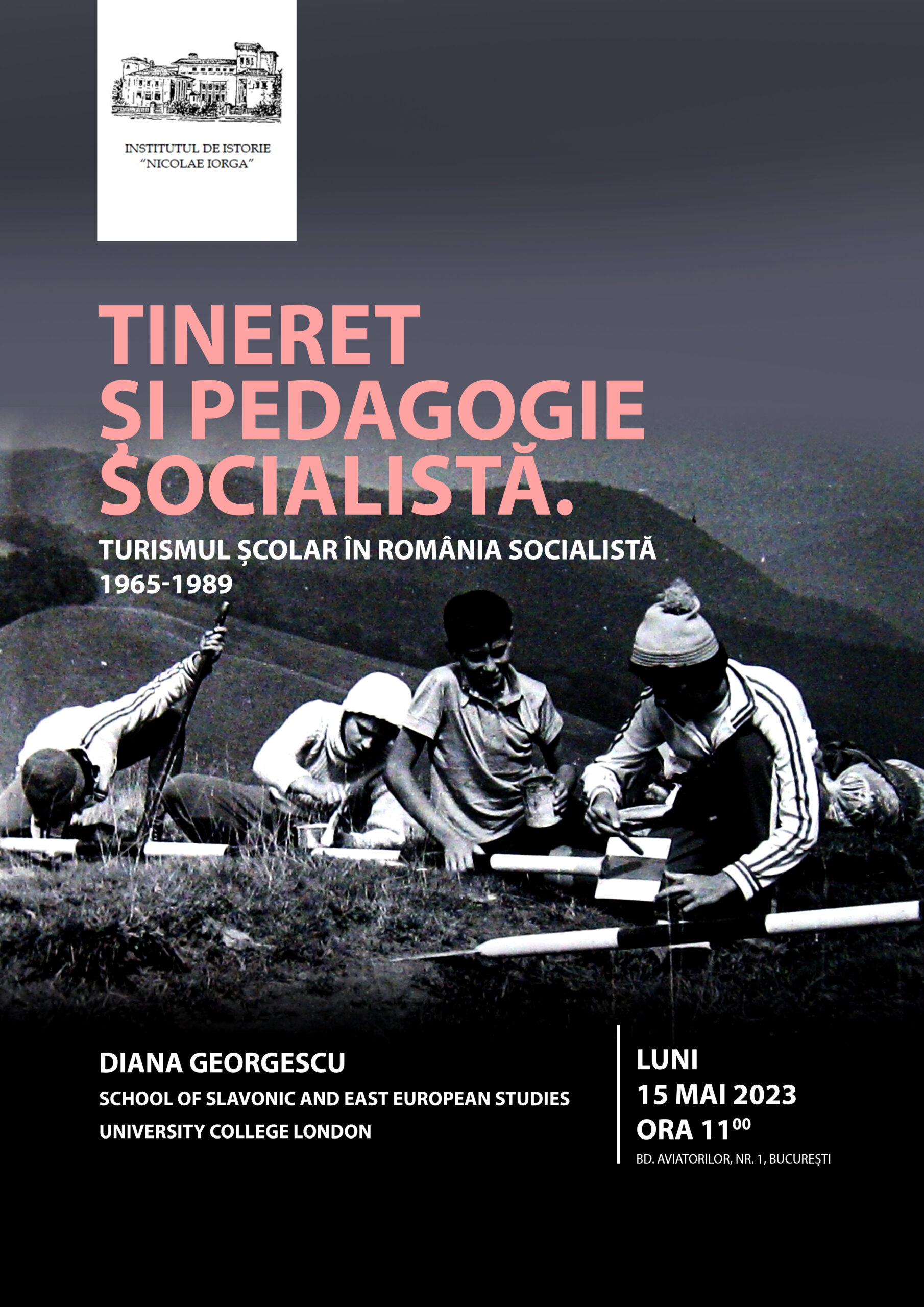 8 mai 2023
Programul IV "România și Europa în secolul XX" din cadrul Institutului de Istorie "Nicolae Iorga" (Academia Română) vă invită luni, 15 mai a.c., orele 11.00, la prelegerea "Tineret și Pedagogie Socialistă. Turismul Școlar în România (1965-1989)", susținută de profesoara Diana Georgescu (University College London). Evenimentul va avea loc la sediul Institutului: Bd. Aviatorilor nr. 1, București.
Rezumatul prelegerii:
Prelegerea va examina participarea pionierilor adolescenți în competiția națională, "Expedițiile Cutezătorii", lansată de revista Cutezătorii și Organizația Pionierilor în 1967 și desfășurată anual până în 1989. Menite să educe pionierii in spirit de echipă dar și de inițiativă, organizatorii expedițiilor își doreau în același timp să stimuleze și spiritul de aventură și distracție al adolescenților ("turismul haiducesc"). De ce au răspuns pionierii și tinerii lor profesori, care au format echipaje cu profil de cercetare istorică, etnografică, geografică etc. cu entuziasm acestui proiect național? Prelegerea va folosi materiale de arhivă, istorii orale precum și "jurnalele de bord" ale expedițiilor scrise de pionierii cu rol de "cronicari" pentru a răspunde acestei întrebări. Voi chestiona paradigma totalitară asupra pedagogiei socialiste și a relației dintre stat și societate în România ceaușistă. În această viziune, organizațiile de pionieri și tineret își propuneau (și chiar reușeau) îndoctrinarea ideologica și omogenizarea tinerei generații prin anihilarea în colectivul socialist. În contrast, analiza expedițiilor sugerează că pedagogia socialistă cultiva nu numai spiritul de echipă și civismul adolescenților, dar și inițiativa și voluntarismul lor. În același timp, prelegere examinează cum ambivalența și polivalența propagandei oficiale privind expedițiile a permis adolescenților și profesorilor să adapteze cerințele acestei competiții propriilor lor interese și aspirații.
Diana Georgescu este profesor în cadrul School of Slavonic and East European Studies, University College London, fiind specializată în istoria transnațională a Europei de sud-est. Cercetarea sa se axează pe teme precum istoria copilăriei și a tineretului, studiile de memorie si istoria orală, istoria de gen și analiza naționalismului. În prezent finalizează un manuscris de carte intitulat "Ceaușescu's Children: The Making and Unmaking of Romania's Last Socialist Generation (1965-2010)". În paralel, Diana Georgescu dezvoltă un proiect despre rolul tineretului în politica externă a regimului comunist din România. Ea analizează atât relațiile cu Occidentul, cât și colaborările cu organizațiile de profil din așa-zisa Lume a Treia.
În anul academic 2022/ 2023, Diana Georgescu este bursieră în cadrul programului de cercetare 'Nations and Nationalisms' (N+N) la Colegiul Noua Europă.