CfA: The VUIAS Fellowships in Ukraine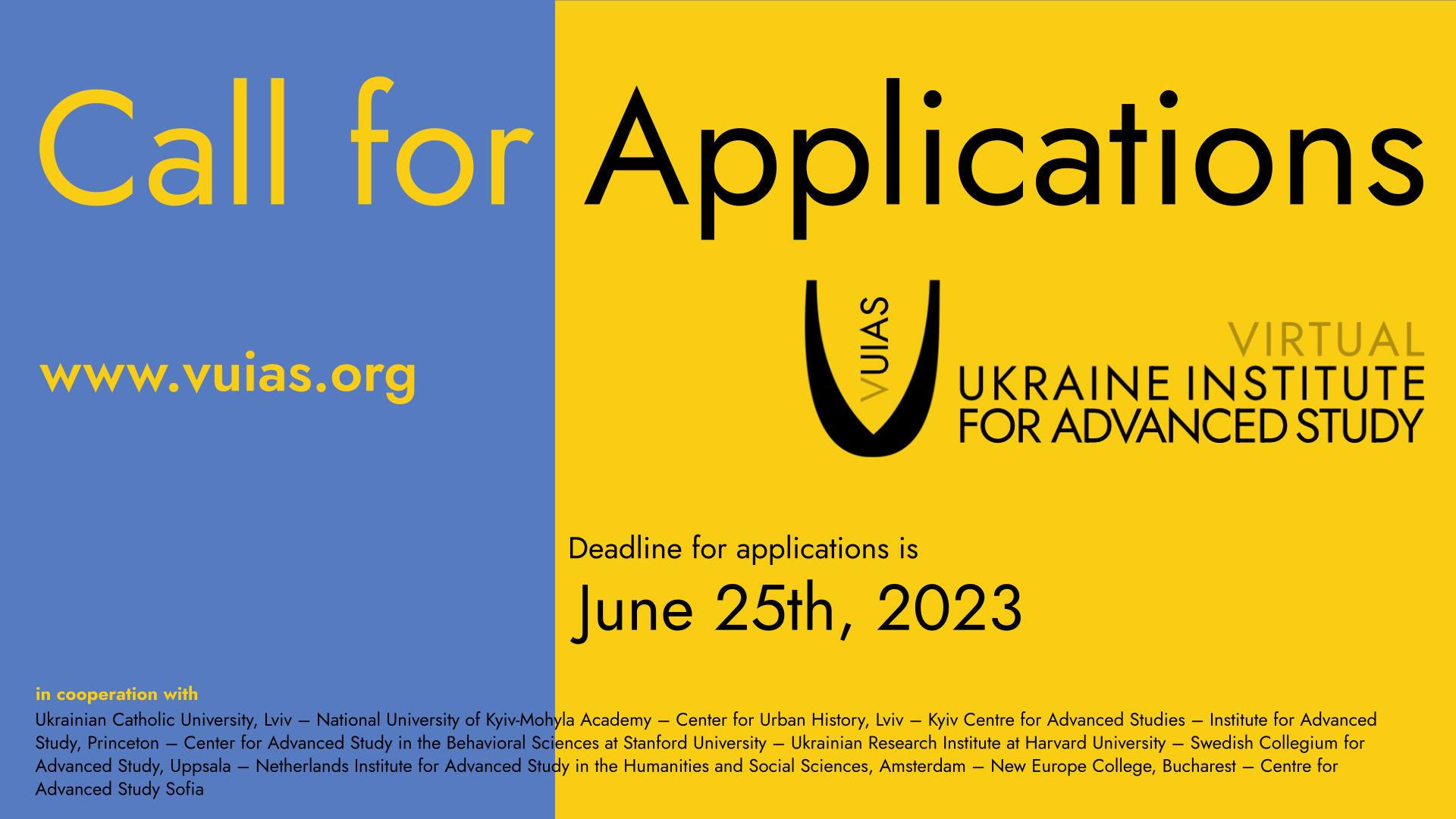 9 May 2023
In close cooperation with partner institutes from Ukraine, Europe and the United States, the Wissenschaftskolleg has launched an initiative to support Ukrainian scholars in their effort to found an Institute for Advanced Study in Kyiv. Full-scale institutional activities in Ukraine will only be possible once the war is over, but in September 2023 the Virtual Ukraine Institute for Advanced Study (VUIAS) will take up its activities and host a first interdisciplinary cohort of fellows. VUIAS will grant fellowships to Ukrainian scholars, coordinate them to form a virtual cohort, organize a colloquium and other virtual and hybrid events for them, establish links with relevant colleagues and academic institutions internationally, and provide services such as access to libraries and assistance in getting work translated and published. Four of Ukraine's most vibrant universities and research institutions <https://vuias.org/#partners> provide strong institutional partnerships for VUIAS and guarantee that it is firmly ensconced in the national and regional academic context. VUIAS is funded by the Volkswagen Foundation Germany.
The first cohort in the academic year 2023/2024 will consist of up to fourteen fellows. VUIAS provides two kinds of fellowships: VUIAS Fellowships in Ukraine, which are granted by the Wissenschaftskolleg to scholars who work and reside in universities and research institutes in Ukraine, and VUIAS Fellowships Abroad, which are funded, selected and hosted by eight of the world's leading Institutes for Advanced Study<https://vuias.org/#partners> located in Europe and the United States.
This is a call for applications for six VUIAS Fellowships in Ukraine for the academic year 2023/2024.
VUIAS Fellowships in Ukraine are granted for ten months (from September 2023 to June 2024) to scholars residing in Ukraine and working in Ukrainian universities and research institutes. The fellows will remain at their home institutes and receive their fellowships there. VUIAS Fellowships in Ukraine amount to 500 euros per month for postdocs and 1000 euros per month for professors.
Excellent and innovative scholars from Ukraine and all academic disciplines are encouraged to apply for VUIAS Fellowships in Ukraine – applications from the sciences, the humanities and the social sciences are equally welcome. The VUIAS Fellowship in Ukraine supports scholars in their pursuit of a self-chosen research project. Scholars at all stages of their career are eligible if they hold a PhD and are not yet retired.
The VUIAS Fellowships in Ukraine are reserved for scholars residing in Ukraine, who have Ukrainian citizenship or a long-term residence permit and are affiliated with a Ukrainian academic institution. During the academic year 2023/2024 all VUIAS Fellows will be obliged to engage in interdisciplinary exchange with their cohort through regular participation in the VUIAS colloquium and other events. The working languages will be Ukrainian and English; both an active and passive knowledge of English is expected.
The application must be in English and submitted by email to admissions@vuias.org with the following documents attached in a PDF-format:
*   letter explaining your motivation in applying (max. 300 words)
*   your CV with a complete list of publications
*   a description of the research project (3-5 pages)
*   two sample articles or chapters, at least one of which must be in English
*   the application form (download here<https://vuias.org/form-VUIAS_fillable.pdf>) also requires a short cv, a short list of five publications and an abstract of your project
Deadline for applications is 25 June 2023.
For further information please write to admissions@vuias.org
To learn about our privacy notice, please click here.
Virtual Ukraine Institute for Advanced Study (VUIAS)
Wissenschaftskolleg zu Berlin
Institute for Advanced Study
Wallotstraße 19
14193 Berlin
Tel.: +49 30 89 00 1 – 0
Fax: +49 30 89 00 1 – 100
www.vuias.org