The Custody of the Holy Land and the "Globalization of Catholicism" (17th-18th centuries)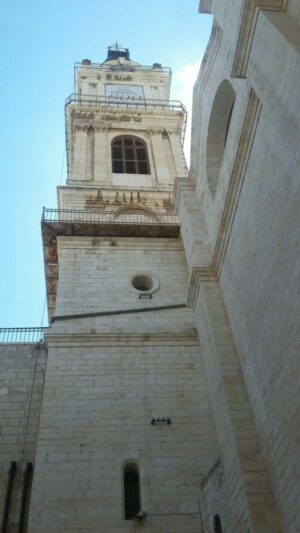 Event: Research group
Location: NEC conference hall & Zoom
26 June 2023, 15.00-17.00 (Bucharest time)
Felicita TRAMONTANA, PhD, Associate Professor of Early Modern History, University Roma Tre; Honorary fellow, Centre for the Study of the Renaissance (University of Warwick); Principal Investigator of the research project HOLYLAB, funded by the European Research Council
Join Zoom Meeting
https://us02web.zoom.us/j/82640666473?pwd=L3kzY1R5bHpielFSd0pMenFqeTRxZz09
Meeting ID: 826 4066 6473
Passcode: 368331
*
Short abstract:
The seminar explores how the Franciscan Custody of the Holy Land (est. 1342) took part in and was affected by the so-called "Globalization of Catholicism" in the 17th and the 18th centuries. It addresses the issue from two complementary perspectives: first it explores how during the early globalization the Custody's network expanded, similarly to missionary ones, and contributed to the global circulation of friars, devotional objects and practices. Furthermore, the paper also investigates how the functioning and tasks of Custody were influenced by the expanding authority of De Propaganda Fide (est. 1622) – the Roman congregation in charge of the global expansion of catholic tradition – over it.  More specifically, through the analysis of correspondence, reports and account documents, the paper reconstructs how the Custody – initially established for the maintenance of the Holy Shrines – started to be increasingly framed as one of the overseas missions overseen by Propaganda and in charge of the global diffusion of Catholicism.
In a broader perspective the paper contributes to our understanding of the relationship between religious orders and the global ambitions of the early modern Church.
Short bio:
Felicita Tramontana is Associate Professor of Early Modern History at Roma Tre University and honorary fellow of the Centre for the Study of the Renaissance of the University of Warwick.
She is currently PI of the ERC – funded project "HOLYLAB – A global economic organization in the early modern period: The Custody of the Holy Land through its account books (1600-1800)". Before moving to Rome she was Marie Skłodowska Curie fellow at the University of Warwick.
This event is organized within the research group Reflections on the Political and Social History of the 18th and 19th Centuries in Romania (GRiPs) hosted by New Europe College.