Prezentare de carte: "Elogiul moderației" de Aurelian Crăiuțu (Editura Spandugino, 2022)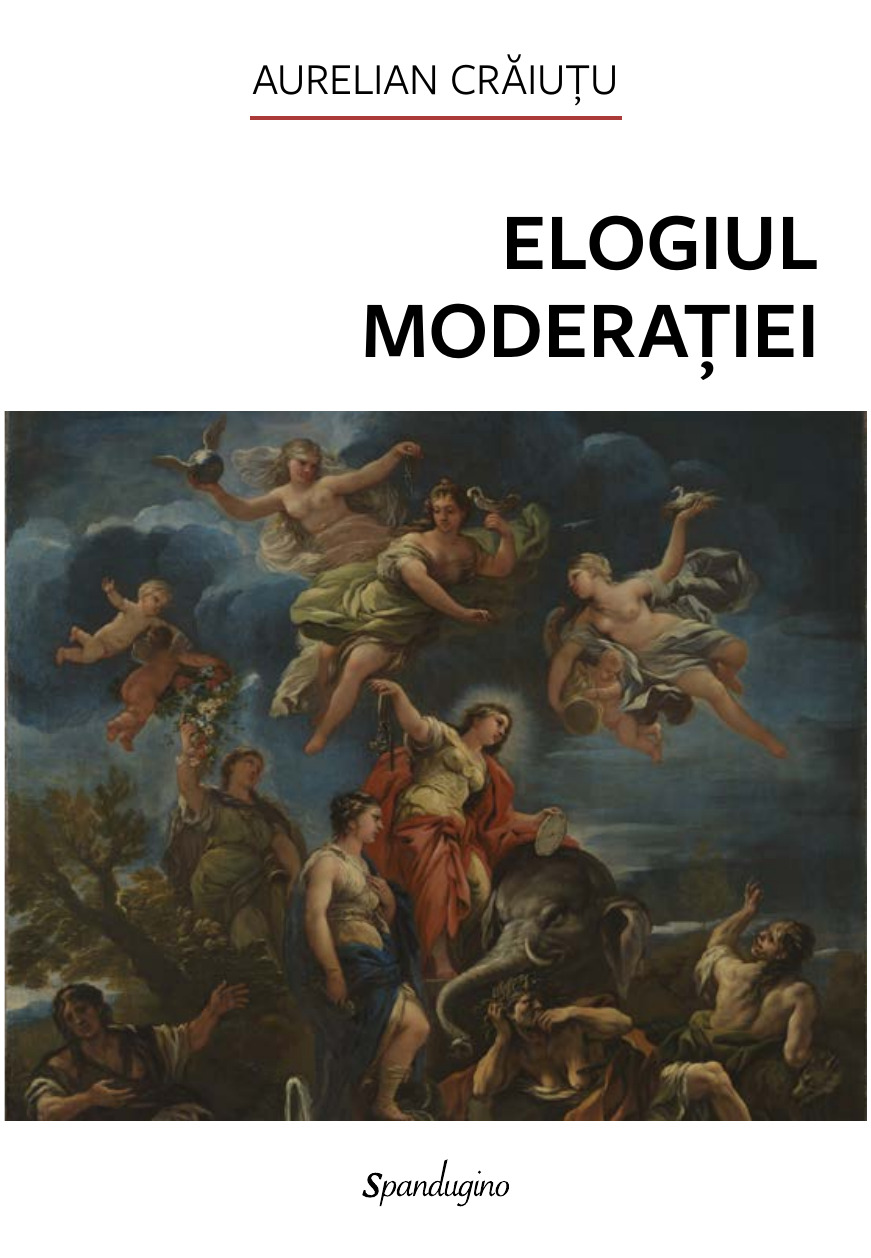 Event: Roundtable (in Romanian)
Location: NEC conference hall & LIVE pe www.facebook.com/spandugino
7 June 2022, 15.00-17.00 (Bucharest time)
Editura Spandugino și Colegiul Noua Europă au deosebita plăcere să vă invite la o dezbatere în jurul cărții
Elogiul moderației de Aurelian Crăiuțu
(ediție revizuită și lărgită, Editura Spandugino, colecția "Perpetuo", 2022).
Participanți:
Raluca ALEXANDRESCU, Cătălin AVRAMESCU,
Aurelian CRĂIUȚU, Camil PÂRVU, Cristian PREDA,
Ioan STANOMIR, Miruna TĂTARU-CAZABAN
Moderator:
Cristian PĂTRĂȘCONIU
Evenimentul se va transmite live pe pagina: Editura Spandugino | Facebook. 
Aurelian Crăiuțu prezintă o serie de portrete intelectuale captivante ale unor gânditori moderați care nu s-au lăsat pradă curentelor ideologice radicale. Aceasta nu înseamnă însă că acești gânditori au fost lipsiți de pasiune, indiferenți sau nehotărâți. Ei s-au remarcat mai degrabă ca niște apărători înfocați ai unor valori politice și culturale care păreau să-și fi pierdut farmecul și relevanța în vâltoarea conflictelor culturale și a războaielor civile. Cartea ne călăuzește prin diferite contexte naționale și intelectuale, din Franța, Statele Unite si Marea Britanie până în Italia, Polonia și România și ne arată că acești autori, în ciuda diferențelor de temperament, convingeri politice și socializare intelectuală, împărtășeau un deosebit respect pentru virtutea moderației, o virtute animată atât de un spirit al dialogului, curiozitate și pluralism epistemologic, cât și de disponibilitatea de a apăra idei nepopulare, în vederea consolidării fundamentelor politicii democratice.
Balázs Trencsényi (Central European University)
***
Aurelian Crăiuţu este profesor în cadrul Departamentului de Știinţe Politice al Universităţii Indiana, Bloomington, Statele Unite. Teza sa de doctorat susţinută la Universitatea Princeton despre gândirea politică a Doctrinarilor francezi (François Guizot, Pierre Royer‑Collard, Charles de Rémusat etc.) a câştigat, în anul 2000, premiul Leo Strauss acordat de Asociaţia Americană de Știinţe Politice pentru cea mai bună lucrare în domeniul filosofiei politice în America de Nord. O variantă revizuită a fost publicată în 2003 sub titlul Liberalism under Siege: The Political Thought of the French Doctrinaires (Lanham: Lexington Books/Rowman & Littlefield, 2003); o ediție lărgită a cărţii, sub titlul Le Centre introuvable: la pensée politique des doctrinaires français sous la Restauration, a fost publicată de editura pariziană Plon, în 2006. Aurelian Crăiuţu este, de asemenea, autorul şi editorul altor cărţi, între care Elogiul libertăţii (Polirom, 1998), America through European Eyes (cu Jeffrey C. Isaac, Penn State University Press, 2009), Tocqueville on America after 1840: Letters and Other Writings (cu Jeremy Jennings, Cambridge University Press, 2009), A Virtue for Courageous Minds: Moderation in French Political Thought, 1748‑1830 (Princeton University Press, 2012) şi Faces of Moderation: The Art of Balance in an Age of Extremes (University of Pennsylvania Press, 2017). Articolele sale au apărut în diverse reviste de specialitate şi publicaţii din Statele Unite, Australia şi Europa, pre­cum American Political Science Review, History of Political Thought, Political Theory, European Journal of Political Theory, The Review of Politics, History of European ideas, Commentaire, Storia del pensiero politico, Araucaria, The Island, Los Angeles Review of Books şi Aeon Magazine. Aurelian Crăiuţu a tradus în limba română cărţi de filosofie ale lui Edmund Husserl, Gustave Thibon şi Gabriel Marcel şi a co‑editat (cu Sorin Antohi) Dialog şi libertate: Eseuri în onoarea lui Mihai Șora (Nemira, 1997).