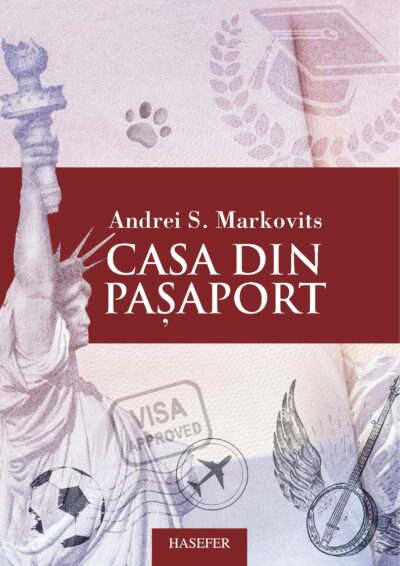 Event: Conference
Location: NEC conference hall
7 June 2023, 18.00-20.00 (Bucharest time)
Andrei S. MARKOVITS, Karl W. Deutsch Collegiate Professor of Comparative Politics and German Studies, University of Michigan
The conference will be followed by a discussion based on Andrei S. Markovits's book, The Passport as Home: Comfort in Rootlessness (CEU Press, 2021), and on its Romanian translation, recently published under the title Casa din pașaport (Hasefer, 2023) in Iulia Singer's translation.
Moderator: Cristian PREDA
Guests: Ileana BUCULEI, Camelia CRĂCIUN, Irina NASTASĂ-MATEI, Iulia SINGER
Abstract:
This is the story of an illustrious Romanian-born, Hungarian-speaking, Vienna-schooled, Columbia-educated and Harvard-formed, middle-class Jewish professor of politics and other subjects. Markovits revels in a rootlessness that offers him comfort, succor, and the inspiration for his life's work. As we follow his quest to find a home, we encounter his engagement with the important political, social, and cultural developments of five decades on two continents. We also learn about his musical preferences, from classical to rock; his love of team sports such as soccer, baseball, basketball, and American football; and his devotion to dogs and their rescue. Above all, the book analyzes the travails of emigration the author experienced twice, moving from Romania to Vienna and then from Vienna to New York.
Markovits's Candide-like travels through the ups and downs of post-1945 Europe and America offer a panoramic view of key currents that shaped the second half of the twentieth century. By shedding light on the cultural similarities and differences between both continents, the book shows why America fascinated Europeans like Markovits and offered them a home that Europe never did: academic excellence, intellectual openness, cultural diversity and religious tolerance. America for Markovits was indeed the "beacon on the hill," despite the ugliness of its racism, the prominence of its everyday bigotry, the severity of its growing economic inequality, and the presence of other aspects that mar this worthy experiment's daily existence.
Bio:
Andrei S. Markovits, born in October 1948 in the West Romanian city of Timisoara as the only child of a Hungarian-speaking middle-class Jewish couple, is the Karl W. Deutsch Collegiate Professor of Comparative Politics and German Studies and an Arthur F. Thurnau Professor at the University of Michigan in Ann Arbor. Raised in Vienna and New York City, Markovits attended Columbia University from which he received five degrees. His academic career led him to holding positions on the faculties of Wesleyan University, Boston University, and the University of California at Santa Cruz before assuming his current professorships at the University of Michigan in 1999. In addition, Markovits was a long-time member of the Center for European Studies at Harvard University where he was also a Visiting Professor of Social Studies in 2002-2003. Markovits held guest professorships at universities in Germany, Austria, Switzerland, and Israel. He has been awarded many fellowships and was a member of the Center for Advanced Study in the Behavioral Sciences of Stanford University and the Institute for Advanced Study Berlin (Wissenschaftskolleg zu Berlin). His many books, articles, and reviews have appeared in sixteen languages. Markovits' published scholarship ranges from European social democracy and labor unions to European anti-Americanism and anti-Semitism; from the politics of scandal to that of the Green movement and party in Germany. His latest work has been primarily focused on the consumption of sports (i.e., the fans as opposed to the athletes) in North America and Europe, as well as dog rescue in the ever-changing context of human-animal relations. Markovits was awarded an honorary doctorate by the Leuphana University in Lueneburg, Germany. Additionally, the President of the Federal Republic of Germany bestowed on Markovits the Cross of the Order of Merit, First Class, one of the highest honors awarded by Germany to Germans and foreigners alike.
A lover of all music, Markovits has been particularly enamored with the work of Mozart, Beethoven, Dvorak, and the Grateful Dead, whom he followed on many a tour on the East Coast between 1969 and Jerry Garcia's tragic and untimely death in 1995. A devoted lover of golden retrievers over many years, Markovits and his wife, Kiki, live with their beloved golden Emma in Ann Arbor, Michigan.
Markovits recently published his memoir under the title The Passport as Home: Comfort in Rootlessness (Budapest and Vienna: The Central European University Press, 2021). The book has also appeared in a German and Romanian translation.