Book Launch: "A New Ecological Order. Development and the Transformation of Nature in Eastern Europe" (University of Pittsburg Press, 2022)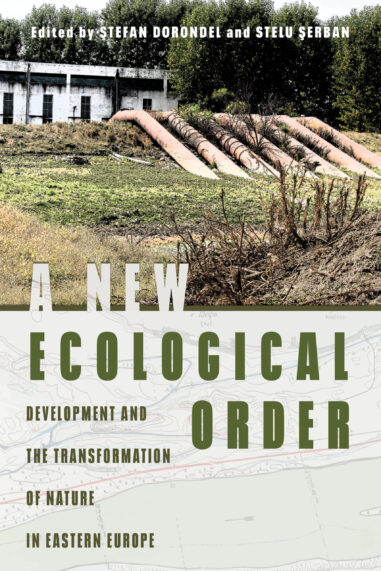 Event: Book Launch
Location: NEC conference hall & Zoom
29 June 2022, 17.00-19.00 (Bucharest time)
It is our pleasure to invite you to the book launch:
A New Ecological Order
Development and the Transformation of Nature in Eastern Europe (University of Pittsburg Press, 2022)
Edited by Ștefan Dorondel and Stelu Șerban
Conveners: Ștefan DORONDEL and  Stelu ȘERBAN
Join Zoom Meeting
https://us02web.zoom.us/j/89656890177?pwd=b0wrN3pPUnBxRVRlbXV6T1VmeFdsdz09
Meeting ID: 896 5689 0177
Passcode: 432049
The rise of industrial capitalism in the nineteenth century forged a new ecological order in North American and Western European states, radically transforming the environment through science and technology in the name of human progress. Far less known are the dramatic environmental changes experienced by Eastern Europe, in many ways a terra incognita for environmental historians and anthropologists. A New Ecological Order explores, from a historical and ethnographic perspective, the role of state planners, bureaucrats, and experts—engineers, agricultural engineers, geographers, biologists, foresters, and architects—as agents of change in the natural world of Eastern Europe from 1870 to the early twenty-first century.
Contributors consider territories engulfed by empires, from the Habsburg to the Ottoman to tsarist Russia; territories belonging to disintegrating empires; and countries in the Balkan Peninsula, Central and Eastern Europe, and Eurasia. Together, they follow a rhetoric of "correcting nature," a desire to exploit the natural environment and put its resources to work for the sake of developing the economies and infrastructures of modern states. They reveal an eagerness among newly established nation-states, after centuries of imperial economic and political impositions, to import scientific knowledge and new technologies from Western Europe that would aid in their economic development, and how those imports and ideas about nature ultimately shaped local projects and policies.
*
A New Ecological Order provides a new perspective on the ways nature was mobilized by the developmental policies of Eastern Europe's nation-states in their struggle to escape the periphery. Analyzing environmental changes and the way new ideas and new actors have been involved in this complex process, it offers an exceptional contribution to the history and anthropology of the government of nature.
— Marc Abélès, École des Hautes Études en Sciences Sociales, Paris
For more details, please visit: upittpress.org
This event is organized in collaboration with the Institute for South-Eastern European Studies of the Romanian Academy.