Beyond the Studio: The Hunt for Lost Recordings of Dinu Lipatti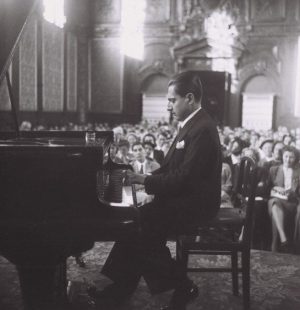 Event: Conference
Location: NEC conference hall
14 October 2016, 17:00 – 19:00
Mark AINLEY, Historical Piano Recording Expert, Canada
In anticipation of the "Dinu Lipatti Centenary" in 2017 and with the support of the Romanian Ministry of Culture, Opus Association presents, from October 6 to October 14, 2016, the "Lipatti – Restitutions" project.
Opus Association takes this occasion to welcome on his very first time to Romania one of the most passionate researchers on Dinu Lipatti: Mark Ainley from Canada, who, through his personal endeavours, has brought to light some of our great pianist's lost recordings, thus significantly increasing the number of existing titles – now available worldwide on such famous labels as EMI. Mark Ainley will hold three conferences, in Bucharest (October 6, 5:00 PM, National Music University, and October 14, 5:00 PM, New Europe College) and in Cluj Napoca (October 10, 4:00 PM, "Gheorghe Dima" Music Academy). The entrance is free of charge.
October 14, 2016 will also see the launching, at the New Europe College and in the presence of distinguished guests and press representatives, of the site www.dinulipatti.org, a brand-new online resource destined to answer virtually all questions on the performer and composer Dinu Lipatti – his oeuvre and his life – by the gathering together of comprehensive information likely to appeal to both specialists and the wider public. The very existence of its site makes it a premiere, and, due to the varied themes covered, it can become the necessary, close at hand instrument for in-depth information on the famous artist. As well, the site is intended to be the starting point for ulterior research, in its turn mandatory in filling in the existing serious gaps with which one wishing to get acquainted with Dinu Lipatti, a name illustrative of the Romanian culture, is still faced. The site features articles by some of the most important Dinu Lipatti researchers such as Grigore Bărgăuanu, Mark Ainley, Ana Maria Orendi or Viniciu Moroianu.
After many years of study and countless classes in music history and music theory, Mark Ainley, fascinated by the piano, focused his research on the dilemmas posed by the great pianists' historical performances. Specialized in the art of the best names in music performance of the last 150 years, the Canadian scholar is internationally acknowledged as an authority on the life and oeuvre of Dinu Lipatti (1917 – 1950). After having helped the rediscovery of a number of the Romanian pianist's previously unedited recordings, Ainley went on to co-produce their release, and the album won the German Music Critics' Award in 1995. Subsequently, Mark Ainley published an extensive article in International Piano Quarterly and produced a CD released by EMI to mark the 50th anniversary of Lipatti's death.